---
Meet The People Behind 30×30 Total Transformation
Dr. Fab Mancini
A frequent guest of radio and television programs, Dr. Fab Mancini is a Self-Healing expert who has been featured in popular programs such as Dr. Phil, The Doctors, Fox News, CNN and numerous other syndicated morning shows. He also has his own popular international weekly radio show, Self-Healing with Dr. Fab, on HayHouseRadio.com.
An internationally acclaimed educator, philanthropist, bilingual speaker, and President Emeritus of Parker University, Dr. Fab is also the author behind the best-selling book, "The Power of Self-Healing", "Four Steps for Living a Fabulous Life", and was the co-author of "Chicken Soup for the Chiropractic Soul" and "The Well Adjusted Soul." He will open your eyes to the unlimited healing capacity that you carry around with you every moment of your life.
Christine Bullock
Christine Bullock believes fitness and nutrition are a guide to living life to the fullest. Implementing better eating habits and a personal exercise routine into your daily life will allow your inner beauty and joy to shine through.
Christine has been in the fitness world her whole life, and has been teaching fitness for over a decade in many regions from Pittsburgh to Los Angeles. She was recently voted LA Racked "Hottest Trainer of 2013", and her "10 Minute Solution: Butt Lift" DVD won Top Pilates DVDs Of 2013. As a go to wellness expert, you will consistently find Christine on popular programs and magazines such as E!, California Life, and PopSugar.com, as well as a regular contributor to Oxygen Magazine, In Touch Magazine, Life & Style, Popsugar, FabFitFun, SheKnows, Examiner, Inside Weddings, and HauteLook.
---
Vishen Lakhiani
Vishen Lakhiani is the founder and CEO of Mindvalley, an amazing team of almost 150 individuals focused on building disruptive systems that Push Humanity Forward. He is well-known for his radically kick-ass ideas and, his companies and products that allow human beings to live healthier, enhance their happiness and magnify their potential.
As a highly successful entrepreneur, there is some method to his madness, making him one of the most sought after speakers in the world of internet business building and company culture. He's shared the stage with Tony Robbins, Sir Richard Branson, His Holiness the Dalai Lama, Nobel Prize winner and former State President of South Africa, F. W. de Klerk, Stephen Covey and other luminaries.
---
On September 6th, 2011 we asked a film crew to capture the events on a single day at Mindvalley HQ.
Proudly published by Mindvalley.
Mindvalley spreads game-changing ideas in fields like entrepreneurship, spiritual growth, parenting and more. The kind of ideas that mainstream education often ignores.
We scour the globe for authors, trainers and visionaries with transformational messages, which we then take mainstream through our optimized marketing processes. Our mission is to touch 1 billion lives by being a new kind of publishing company: one that merges experimental technology, engaging artistry and conscious marketing to build passionate tribes around the causes we support.
Marketing is Mindvalley's first passion, our second is work culture.
We're constantly experimenting with new ways of growing, inspiring and delighting our people. For instance what happens when employees are given an hour a day to spend on their personal growth? What if company meetings are banned and replaced with "Awesomeness Reports"? How do people react to random treats throughout the week, like massages in our Meditation Room and inspiring poems on their desks?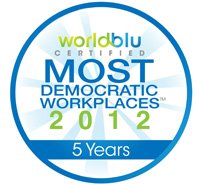 Mindvalley strives to be one of the world's top workplaces, and today we attract talent from over 32 countries. Our efforts have earned us a spot on WorldBlu's List of Most Democratic Workplaces for five years running. We recently also made the Game Changers 500 list—a selection of visionary organizations that are reinventing the world and redefining the rules of business.
We invite you to learn more about Mindvalley and join our tribe—whether it's as an author, a customer or an employee.
---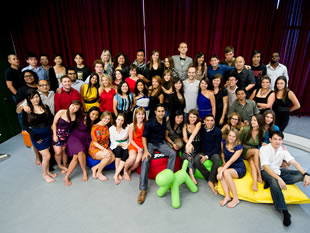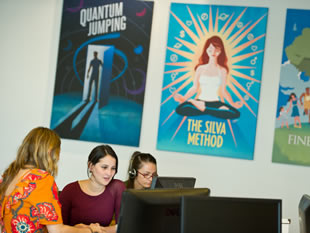 About Us
We connect authors with the internet generation. But it's our unique culture, more than anything else, that makes Mindvalley what it is. Over the past four years we've won accolades for creating one of the most unique and desirable work cultures in the world.
Planet First
We're on a mission to bring enlightened ideas to 1 billion lives. But as we do so, we place a firm emphasis on running a business in a way that's good for the world. From saving the Amazon rainforest to bringing new standards of workplace culture in developing countries, Mindvalley puts the planet first.
Careers
Imagine collaborating with some of the smartest, craziest, most passionate people on the planet… learning the freshest, most innovative ideas in the world of marketing and personal growth. Ready for a new challenge? We're hiring all year round.